About Us

Company Profile
A few words about us and our company
Welcome to ISCON CERAMIC, where you can find the ingenious of Sharp Vision, Global Network and Powerful backbone.
The Company cares the vision to cater world class Ceramic tiles. It believes in producing superior quality Ceramic glaze tiles with a sharp vision on market. It takes a lot of skills to design and manufacture in Competitive market but the company has a track record of many successful years as a leading ceramic company.
The Company has a huge production capacity which falls in line with European standard.
The company has in house R & D department, where in continuous research in done in design and quality of glazed files, in order to provide value for money to our customers.
The company has well-established dealer network throughout the whole country and it has marked it presence in export market of various countries.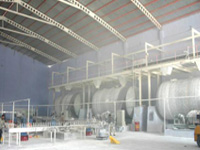 Ball mill is used to mix the different raw material to make the homogenous slip for the spray drier.
The capacity of the ball mill is 32 tons raw material,16 tons of water, 45 tons of 85%alumina peebles. The milling hour is 6 hours to give the homogenized slurry for the spray drier.
Generally the composistion of the raw material is white fired ball clay(ukraine ball clay) imported from Russia, quartz of 99% Silica, Potash feldspar of 12% to 14% Alkalies, Soda feldspar of 12% to 14% alkalies, strengthening agent, china clay, body stains imported from Itaca Spain.
We are having total 6 Ball Mills, so the daily production of slurry is more than 300 tons.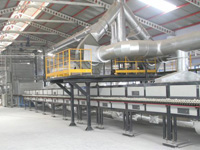 Kiln is generally used to vitrify the dried tile to give final size and the fired properties like final shape, size, water absorption, less porosity, color, stain resistance, fired strength.
The tiles are fired to 1200 Co with a soaking time of 8 min in 1200 Co.with 58 cycles, the production is around 8500 m2/day.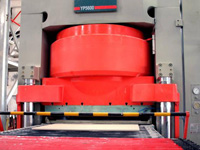 The main function of the Press is to give the shape of tile from the granules.
The tile is compacted using ph 6200 hydraulic press with a specific pressure of 360 kg/cm2. The green tile is passed through a 5 layer horizontal to remove the residual moisture uniformly & also to give dry strength so the tile is able to move in the glazing line.
We have fully accredited Quality Management System complying with ISO 9001-2008, which is the highest level of accreditation available for quality systems. We are ISO 9001-2008 certified company.
Our Innovation and Designing - By creating design adapted to market requirements and demands. 100%
Our Quality - By selecting prime raw materials, by subjecting each price to rigorous quality controls throughout the entire production process and complying the quality policy. 100%
Our Technology - Implementing the most advanced technology the market has to offer and using totally automated processes enable us to achieve a premium quality and product. 100%